GK Aurum is a highly intuitive and a clairvoyant HayHouse Certified Master Angel Oracle and Tarot Card reader. She is a world renowned blogger and her Facebook page Angels Aurum "https://www.facebook.com/pg/DIVINEfountainhead", which has + 5.7K worldwide followers, reflects her beautiful connection with Angels. Also being a Reiki master, Crystal healer, Hypnotherapist and Numerologist; she enjoys in bringing love and light, empowerment and encouragement to others through her card readings, creative writings and her spiritual work. Her spiritual quest began 11years ago when she started reflecting on her life purpose.
She works closely with Angels, who guide and inspire her in her spiritual work and help her in enhancing her psychic abilities and vibration levels.
She enjoys sharing her spiritual gifts with others and helping them connect with the higher consciousness; so as to discover and fulfil one's desires and dreams; eventually one's life purpose…
Read More
ANGEL ORACLE / TAROT CARDS READING
Card reading is a powerful tool for those seeking guidance in their lives, to receive insights into relationships, careers, life purpose and finances while giving the recipient peace of mind, confidence in their decisions and move one from the place of fear and worry to a place of joy and happiness.
If this is what you need right now, then book a card reading, NOW…!!!
Read More & Book an Appointment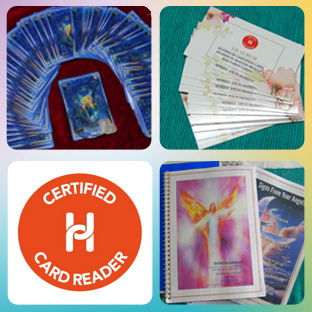 ART OF CARD READING COURSES
If you are curious to know more about Angel Oracle cards and Tarot cards, participate in my regular "Art of Card Reading" courses through both, Class room (in-person) course as well as Distance Learning Programme.
Read More & Book a Course
OTHER CLASSROOM COURSES
Crystal Healing Course
Reiki Course (Level- I to Master)
Meditation Course
Wellness & Lifestyle Course
#  Loving Yourself – Mirror Work
#  Clutter Clearing Course
Hypnotherapy Session
Dowsing Course
Read More & Book a Course
CRYSTAL SHOP
The objective of crystal healing is realignment of your energy frequencies and removal of energy blocks from your energy field; thus unblocking prosperity & abundance.
Buy online Blessed and Energized Crystals to unblock your true potential and empower yourself to receive beautiful gifts of life.
Read More & Buy Intuitively
I'm truly grateful. I look forward daily.
I follow these cards and read them on a daily basis and it's absolutely uncanny how much this resonates to me.
I like this site it gives me strength to cope everyday.
This is a beautiful soul passing on wonderful, positive energy.
I think that this could be a very good place to help you with the answers that you may seek.
Wholesome messages of divine love and light for all.