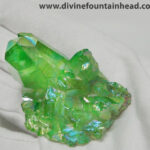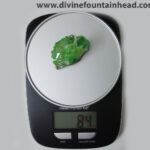 Green Angel Aura Quartz Cluster
USES
Known as the Crystal of New Horizons and Divine Connection, Help with insight and connection to the divine and cosmic consciousness, Helps heal and balance all the Chakras, Attract prosperity and success and stimulate creativity, Helps optimize your abilities, Removes negativity on all levels and activates the healing powers of other crystals, To soothe and heal the Auric field, Uplifts mood and puts into a state of serenity, Allows to perceive and receive the love energies of the higher planes, Beneficial for psychic trauma and hurt, emotional toxicity, multi dimensional healing.
All Chakras.
IMPORTANT
For the right results and optimum benefits; this product shall be specially "Energized and Blessed" by GK Aurum and can also be "Customised /Programmed" through Invocations / Mantras / Shalokas for your specific "need / purpose"; if any.
So, please do write your specific wish /need, if any, in the purchase form (at the check-out).
WEIGHT / SIZE:85 GM
Description
Product Enquiry
Bulk Order
Description
01 quantity of the product means one piece of Green Angel Aura Quartz Cluster.
The supplied product may differ in appearance from the product photograph shown in the website, as Crystals are natural products.