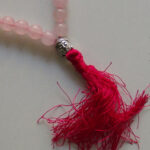 Rose Quartz Japa Mala
USES
This product is under the "Best Offers" category. For details, follow the link; https://www.divinefountainhead.com/product-category/best-offers/
Can be used as prayer beads (rosary), Mala (can be worn around neck), or worn around wrist.
It carries a very gentle and soothing energy and can give comfort to anyone feeling wounded.
It speaks directly to the Heart Chakra, dissolving emotional wounds, fears and resentments, and circulates a Divine loving energy throughout the entire aura. Reawakening the heart to its own innate love, it provides a deep sense of personal fulfilment and contentment, allowing one the capacity to truly give and receive love from others.
Highly effective for kids who are facing problems due to nightmares and darkness, removes regrets from life.
It is the most important crystal for the heart and the heart Chakra.
IMPORTANT
For the right results and optimum benefits; this product shall be specially "Energized and Blessed" by GK Aurum and can also be "Customised /Programmed" through Invocations / Mantras / Shalokas for your specific "need / purpose"; if any.
So, please do write your specific wish /need, if any, in the purchase form (at the check-out).
WEIGHT / SIZE: 85 to 100 GM
Description
Product Enquiry
Bulk Order
Description
01 quantity of the product means one Rose Quartz Japa Mala.
Bead's size is 8mm.
The supplied product may differ in appearance from the product photograph shown in the website, as Crystals are natural products.