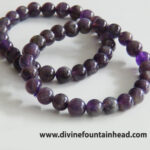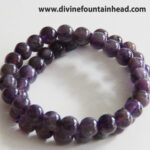 Amethyst Bracelet
₨950.00
USES
Assists in meditation and dream work, Enhances psychic abilities and intuition, Helps in breaking free from bad habits and limiting behaviours, Protects the physical environment from negative energies and guards against psychic attack, Blocks geopathic stress, Brings peace and tranquillity in the home, Calms the mind, Helps bring clarity in decision making, Ensures greater financial stability, Reduces stress, anxiety, fear, and grief,
Amethyst carries a high frequency that protects the energy field, clears the aura.
Works with the Third Eye and Crown Chakras.
IMPORTANT
For the right results and optimum benefits; this product shall be specially "Energized and Blessed" by GK Aurum and can also be "Customised /Programmed" through Invocations / Mantras / Shalokas for your specific "need / purpose"; if any.
So, please do write your specific wish /need, if any, in the purchase form (at the check-out).
WEIGHT / SIZE: 16 GM
Description
Product Enquiry
Bulk Order
Description
01 quantity of the product means one piece of 8mm Amethyst Bracelet. The supplied product may differ in appearance from the product photograph shown in the website, as Crystals are natural products.