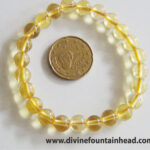 Citrine Bracelet
USES
Stimulates mental power and helps to focus, Activates both, mind and body, Brings happiness, joy, and positivity in life by eliminating the negative energies and vibes, Called The Merchant's Stone for its properties of increase in the cash box as attracts wealth, prosperity and success, Assists in all fast money ventures, and is especially helpful in financial speculation and for commercial success.
Excellent crystal for interpersonal relationships, Smoothes family or group problems, and promotes solutions and cohesiveness, attracts love and happiness, and guards against those who would break your heart
Treats bladder diseases and imbalances in the thyroid gland.
Energizes the Solar Plexus Chakras
IMPORTANT
For the right results and optimum benefits; this product shall be specially "Energized and Blessed" by GK Aurum and can also be "Customised /Programmed" through Invocations / Mantras / Shalokas for your specific "need / purpose"; if any.
So, please do write your specific wish /need, if any, in the purchase form (at the check-out).
WEIGHT / SIZE: 13 GM
Description
Product Enquiry
Bulk Order
Description
01 quantity of the product means one piece of 8mm Citrine Bracelet.
The supplied product may differ in appearance from the product photograph shown in the website, as Crystals are natural products.