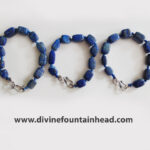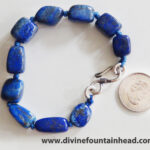 Tumbled Lapiz Lazuli Bracelet
₨1,100.00
USES
Connects to cosmic/heaven energies, Provide protection and shield from negative influences, Purify lower energies from one's body and align it with higher forces.
Encourages self-awareness, allows self-expression and reveals inner truth, Quickly releases stress, allowing for peace and serenity, Provide qualities of honesty, compassion and morality to the personality, Stimulates objectivity, clarity and encourages creativity, Inspires confidence, Boosts the immune system, purifies blood, lowers blood pressure, cooling and soothing areas of inflammation, Alleviates insomnia and vertigo, Overcomes depression, Benefits the respiratory and nervous systems and the throat, vocal chords & thyroid, cleanses organs, bone marrow and thymus.
Excellent stone for executives, journalists, and psychologists, stimulating wisdom and good judgment in the practical world  "Lapis lazuli" is good for "Communication and Confidence".
IMPORTANT
For the right results and optimum benefits; this product shall be specially "Energized and Blessed" by GK Aurum and can also be "Customised /Programmed" through Invocations / Mantras / Shalokas for your specific "need / purpose"; if any.
So, please do write your specific wish /need, if any, in the purchase form (at the check-out).
WEIGHT / SIZE: 40 GM
Description
Product Enquiry
Bulk Order
Description
01 quantity of the product means one piece of Tumbled Lapiz Lazuli Bracelet.
The supplied product may differ in appearance from the product photograph shown in the website, as Crystals are natural products.