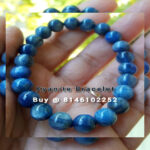 Blue Kyanite Bracelet
₨1,670.00
Description
Product Enquiry
Bulk Order
Description
Kyanite aligns all chakras and subtle bodies instantly; bringing tranquility and a calming effect to the whole being. The high vibration and rapid transfers of energy from Kyanite create pathways where none existed before. Like a universal bridge, it is an extraordinary crystal of connection, opening the mind centers, enhancing telepathic and psychic abilities, bridging gaps in all communication efforts, and providing a link for transmitting or receiving healing energy.
It connects to the throat chakra.
08 mm beads size.
The supplied product may differ in appearance from the product photograph shown in the website, as Crystals are natural products.