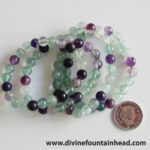 Multi-Fluorite Bracelet
₨910.00
USES
It is a highly protective and stabilizing stone, useful for grounding and harmonizing spiritual energy, Increases intuitive abilities, links the human mind to universal consciousness, and develops connection to Spirit.
Promotes deep relaxation, better sleep patterns and improve energy levels, Beneficial for students, as it helps increasing learning power and concentration.
It heightens mental abilities, assisting in rapid organization and processing of information and brings mental clarity and stability to an otherwise chaotic situation, Also clear the aura of mucky energies.
Multi fluorite stone provides amazing healing benefits by stimulating Heart Chakra and Third Eye chakra. .
IMPORTANT
For the right results and optimum benefits; this product shall be specially "Energized and Blessed" by GK Aurum and can also be "Customised /Programmed" through Invocations / Mantras / Shalokas for your specific "need / purpose"; if any.
So, please do write your specific wish /need, if any, in the purchase form (at the check-out).
WEIGHT / SIZE: 20 CM
Description
Product Enquiry
Bulk Order
Description
01 quantity of the product means one piece of Multi-Fluorite Bracelet, 08 mm beads size.
The supplied product may differ in appearance from the product photograph shown in the website, as Crystals are natural products.