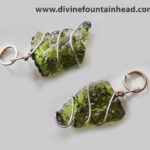 Moldavite Pendant
$26.56
USES
Extremely powerful crystal "The Holy Grail Stone"; bringing positive changes at physical, emotional and spiritual level, and also bring good luck and fulfilment of wishes, Most coveted healing crystals; helps in healing old emotional and spiritual wounds, Moldavite energies bring new dreams, ideas, and visions, Nurtures family relationships and beneficial for people dealing with conflicts and disputes in the married life, It aligns one's path to his destiny, Effective in the treatment of ailments related to eyes, Battle against infertility, Beneficial in the treatment of gout and respiratory tract problems.
Is first and foremost a stone of the heart to resolve blockages and to re-balance the Heart Chakra and activating any and all Chakras.
IMPORTANT
For the right results and optimum benefits; this product shall be specially "Energized and Blessed" by GK Aurum and can also be "Customised /Programmed" through Invocations / Mantras / Shalokas for your specific "need / purpose"; if any.
So, please do write your specific wish /need, if any, in the purchase form (at the check-out).
WEIGHT / SIZE:2.5 GM
Description
Product Enquiry
Bulk Order
Description
01 quantity of the product means one piece of Moldavite Pendant with a complimentary string.
The supplied product may differ in appearance from the product photograph shown in the website, as Crystals are natural products.