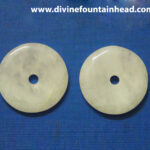 Rose Quartz Doughnut Pendant
$11.80
USES
Stone of universal love, Restores trust and harmony in relationships, Encouraging unconditional love, Heal from painful love experiences, Release pain and negative emotions from the heart, Promote love, self-love, friendship, deep inner healing and feelings of peace, Attract new love for you, Remove infertility, Addictions, Throat problems and sexual dysfunction.
Heart Chakra.
IMPORTANT
For the right results and optimum benefits; this product shall be specially "Energized and Blessed" by GK Aurum and can also be "Customised /Programmed" through Invocations / Mantras / Shalokas for your specific "need / purpose"; if any.
So, please do write your specific wish /need, if any, in the purchase form (at the check-out).
WEIGHT / SIZE: 10 GM
Description
Product Enquiry
Bulk Order
Description
01 quantity of the product means one piece of Rose Quartz Doughnut Pendant, random, with a complementary string.
The supplied product may differ in appearance from the product photograph shown in the website, as Crystals are natural products.