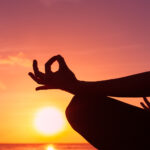 Meditation Course (Classroom / Online)
₨5,500.00
This Meditation course encourages one to be more aware of the 'NOW' instead of dwelling in the past. This course comprises of 5 meditations created to help you breathe to awareness, for alignment of mind, body and soul, for chakra balancing, charging and getting in touch with your higher self, boosting confidence, self-esteem, reduce stress and increase the quotient of happiness in your life.
DURATION: 5 DAYS, 45 MINS DAILY
Description
Product Enquiry
Bulk Order
Description
Each meditation session will be of approx. 45 minutes duration. Timings for the session shall be discussed & decided on mutual convenience through WhatsApp / e-mail, once the order is booked. Charges for this service are non-refundable.
NOTE: This course can be taken Online also.