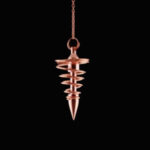 Dowsing Course
₨5,500.00
This foundation course brings forth the ancient knowledge and art of dowsing to you. You can use pendulum dowsing to get answers, locate treasure or   to expand your intuition or fine tune your psychic abilities.  In this course, you learn how dowsing works, its various tools in practice, how to use Pendulum dowser properly, how to clean, charge and program your dowsing pendulum for optimum accuracy .You are guided how to establish communication with your dowser (pendulum), how to eliminate energetic interferences by storing it properly.
Bonus: You learn how to use "L-rods".
DURATION: 2 DAYS, 1 HOUR DAILY
Description
Product Enquiry
Bulk Order
Description
This course includes course study material and one crystal pendulum. Charges for this service are non-refundable.