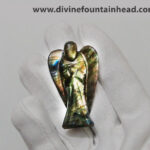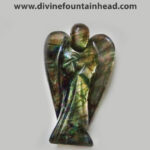 Labradorite Angel with Golden Flash
USES
Useful companion through change, imparting strength and perseverance, Excellent for strengthening intuition – promoting psychic abilities, Balances and protects the aura, raises consciousness and grounds spiritual energies, Protection from negativity and prevent any energy leaks, Bring amazing changes in the life, Reducing anti-social, reckless or impulsive behaviour in children, teenagers and adults who are easily led into trouble by others, Useful for physiotherapists, Enhances the mental and intuitive abilities, Assists in communication with higher guides and spirits in accessing Akashic records, psychic readings and past-life recall, Making work life more congenial, Encourages courtesy and full attention to the customer, Assists part-time and temporary staff in becoming fully involved in a company.
Crown Chakra.
IMPORTANT
For the right results and optimum benefits; this product shall be specially "Energized and Blessed" by GK Aurum and can also be "Customised /Programmed" through Invocations / Mantras / Shalokas for your specific "need / purpose"; if any.
So, please do write your specific wish /need, if any, in the Order Notes (at the check-out).
WEIGHT / SIZE:25.6 GM
Description
Product Enquiry
Bulk Order
Description
01 quantity of the product means one piece of Labradorite Angel with Golden Flash.