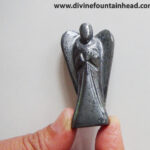 Haematite Angel
USES
It is used in the treatment of anaemia and circulatory problems, Clears and re-aligns the lower chakras, allowing any unwanted or unnecessary energy to drain down and out of the body, Draws off heat, and useful in the treatment of fevers.
Effective in healing pain, cure and relieve headaches, relief from cramps, spinal problems and fractured bones.
Grounds and protects, and strengthens the will; supports the determination to survive and the desire for further development, Helps to release self-imposed limitations, while still maintaining a healthy amount of self-control.
Helpful when undergoing chemotherapy, Supports the patient's will to survive, and treats the accompanying anaemia.
It is also good for working with the Root Chakra, helping to transform negative energies into a more positive vibration.
IMPORTANT
For the right results and optimum benefits; this product shall be specially "Energized and Blessed" by GK Aurum and can also be "Customised /Programmed" through Invocations / Mantras / Shalokas for your specific "need / purpose"; if any.
So, please do write your specific wish /need, if any, in the Order Notes (at the check-out).
WEIGHT / SIZE: 42 GM / 5 CM
Description
Product Enquiry
Bulk Order
Description
01 quantity of the product means one piece of Haematite Angel